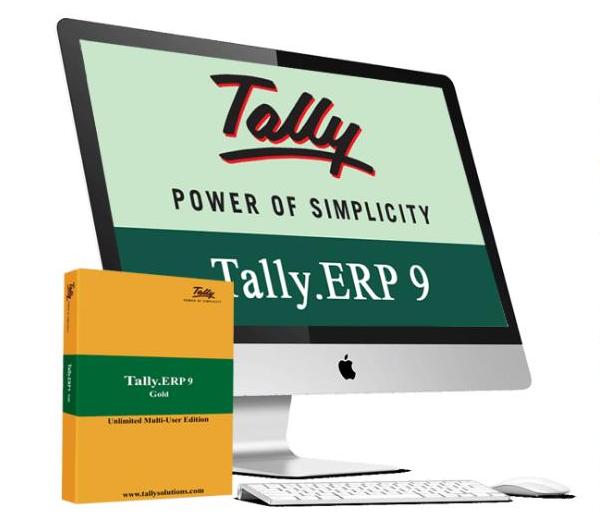 Tally ERP 9 Software in Dubai, UAE.
Authorised Tally ERP 9 Software Dealer in Dubai, UAE.
Tally ERP 9 is a trusted professional, financial, tax accounting software that is used by over 1.5 million businesses worldwide. Our reference to business communities and tax professionals helps us to develop product capabilities that are additional apt to your ways in which you are operating. Tally ERP 9 relies on four pillars that not solely guide our ways of operating, it also makes our offerings unique.
Simplicity
Install the software (Tally ERP 9), activate the license and start your business on Tally within minutes. There are no prerequisites, procedures or set rules to follow.
Speed
Get real-time reports with just a click, such as balance sheet, profit & loss statement, stock summary and cash flow projection to name a few. These reports reflect any changes that are made in the data within fractions of seconds.
Flexibility
Tally ERP 9 adapts to the ways of your business. Flexibility is provided in terms of simplistic configurations which help you to run your business in unexpected situations.
Reliable
Tally ERP 9 is a resilient software and is immune to virus attacks of any nature. Your data is always safe, secure and up-to-date. It cannot be lost due to any sudden disruptions in the work environment or unreliable infrastructure.
Features
Digitize business records in an error-free manner
With the implementation of VAT in the GCC States, it is mandatory for businesses to maintain business records for at least 5 years. Tally.ERP 9 is a 100% VAT-ready business management accounting software accredited by GAZT in KSA and compliant to FTA in the UAE.
Enter all your business data in Tally.ERP 9 and start recording VAT compliant transactions easily. Keep your data up-to-date, audit-ready and generate VAT returns easily. You can also print tax invoices in Arabic, English or both.
Manage your accounts easily
Tally.ERP 9 is simple to use and easy to learn – start recording VAT compliant transactions within minutes of installation.
Tally's ERP system adapts to the unique ways of your business, whether you are a trader, retailer, exporter, importer or a wholesaler. Use Tally.ERP 9 to manage your accounts, inventory, manufacturing, banking and so on.
Your one-stop VAT solution
Tally.ERP 9 is an end-to-end solution that factors in all VAT related mandates as and when required. Tally has been an enabler of business compliance for more than a decade now in different tax environments.
Error detection and correction capabilities are built into the software. You can rely on Tally to record VAT compliant transactions, print VAT invoices and file VAT returns easily and on time. Starting from creating invoices to filing returns, Tally is your VAT compliance partner.
Banking made easy for you
Get rid of errors and other hassles involved in manual reconciliation with banking transactions. Reconcile your bank transactions with bank statements using Tally.ERP 9.
You can print cheques of any bank with payment advice for neater presentation of invoices to your suppliers and clients. What's more? Keep track of all issued post-dated cheque activities and generate cash deposit slips as well.
Equinox is a proficient software solutions provider IT company that provides professional financial accounting Software Tally.ERP 9 in Dubai, Sharjah, Ajman, Abu Dhabi, Fujairah, Ras Al Khaimah UAE, Saudi Arabia, Bahrain. We are partner with leading software companies such as Tally Solutions Pvt-Ltd Dubai.
We offer complete range of services on Tally ERP.9.
Tally Silver - Single User Licenses, Tally Gold - Multi User Licenses, Tally Silver - Single User Renewal, Tally Gold – Multi User Renewal, Training, AMC, TDL Customization, etc